Call Tracer Tool
The Call Tracer tool enables you to get fast and deep insights into network service issues allowing you to increase customer quality of experience (QoE). When understanding details on call flow and protocol message level what is causing disruption of a service or degradation of service quality, our Call Tracer tool offers easy insights of events across all protocols and offering automatic correlation per subscriber.
A modern clutter free troubleshooting environment is offered supporting all EPC and 5GC protocols and providing up to 10x faster root cause identification. The tool comes with a built notebook for root cause documentation and collaboration with other Call Tracer Tool users. Read more »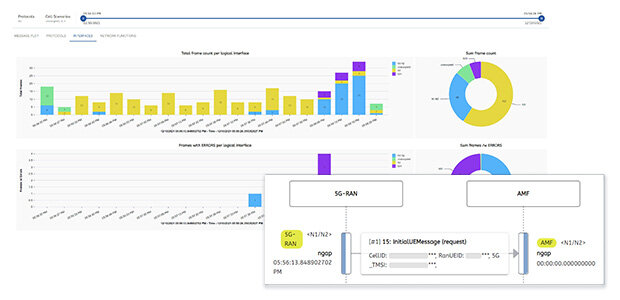 Analytics Tool
Gain valuable insights into subscriber experience with our analytics solution. Our tool can seamlessly integrate with any third-party network probe vendor and be enhanced with supplementary data, such as Cell Trace or CRM data. The most crucial KPIs related to your network quality are presented on user-friendly dashboards. See trends, filter and drill down in an easy fashion when needed. Pre-defined Use Cases for 5G SA/NSA, eMBB and VoNR give you the necessary instant insights.
Analytics tool is your natural companion to Call Tracer tool to get network and subscriber QoE insights, from RAN to EPC, 5GC and IMS, assuring service performance E2E and pathing way for a continuous optimization mindset in your orgnization. Read more »