Analysis of subscriber experience and IoT device performance across the network

Mobile and Fixed IP Networks services are a commodity today. Markets are saturated, mobile penetration rate is more than 100% in many countries. If a subscriber is not satisfied with the service quality offered, he or she is likely to change the provider. Competing by providing best network service quality to your subscribers is a must to reduce churn and to win new customers. But how do you get actionable insights about the subscriber's perceived experience? Where to optimize and invest into infrastructure to maximize improvement in subscriber experience?
Collecting and measuring the right KPIs is of high importance. In VoIP context, a speech quality KPI like MOS (Mean Option Score) might be very good in your network but the real subscriber experience might be hampered by longer speech interruptions that are not reflected in the MOS KPI, as the KPI is averaged, in best case per subscriber session.
5G brings many new opportunities for consumers as well as for the industry. Telecommunication providers are gearing up and introducing 5G into their networks. 5G promises a lot in terms of lower latency, higher throughput and guaranteed SLA using Network Slicing technology introduced with 5G Core Networks. But how well is 5G really performing over LTE? Are the subscribers getting the service they are paying for? Are the SLAs within limits for critical IoT devices operating in a Campus Network? Is the 5G ROI in line with expectations?

To answer the questions above one needs to get true subscriber experience or IoT device performance insights. We believe in providing meaningful details at the level you need. Our KPIs are always aggregated bottom up from every single subscriber or IoT device.
Aggregation in this way allows for a step wise drill-down capability, from Network level down to details for every single subscriber or IoT device either by using Web GUI or querying our open Database.
We analyze network data to calculate various service experience KPIs using a Network Probe. The probe can be either an already deployed probe in your network, one offered directly from SilverEngine or through our technology partner Cubro.
Our solution is the basis for Service Operating Center (SOC). Traditional OSS systems provide a limited, often aggregated, vendor specific view.
Our approach is vendor and application independent focused around offered services. SOC opens a path to continuous, fact-based subscriber service experience improvements.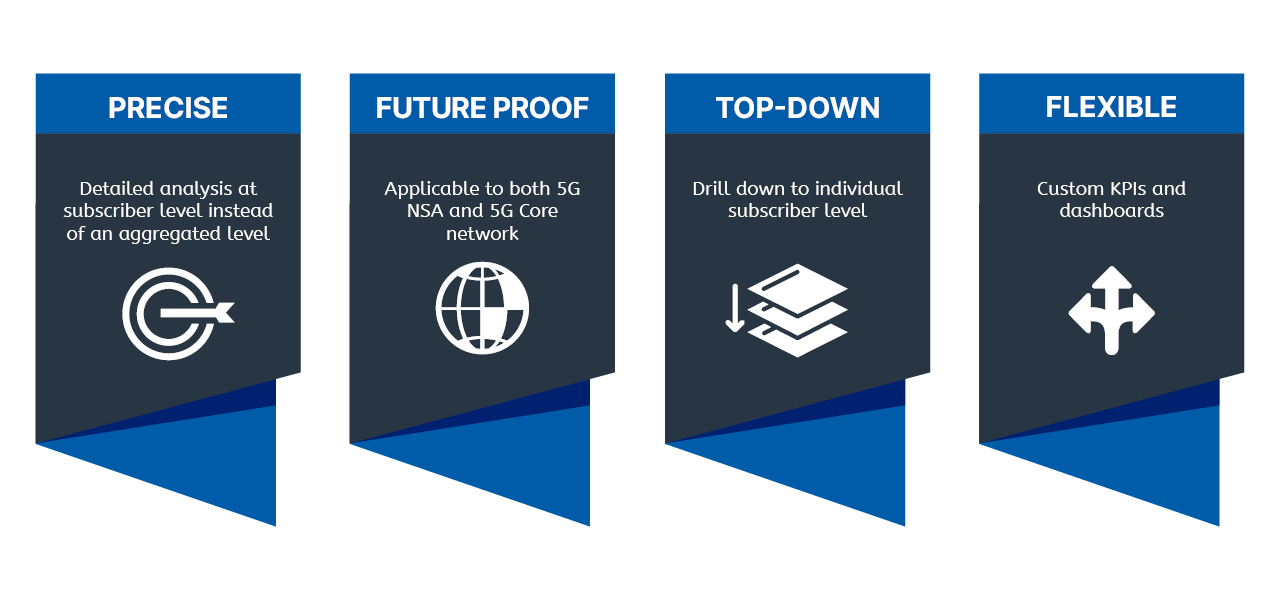 Depending on your focus, we are offering several Subscriber Experience Analytics (SEA) and IoT modules accompanied with capturing relevant network data and analytics services targeting your needs.
Continuous service improvements
In order to succeed on your journey towards improved subscriber experience or reduce the occurrence of SLA breaches for critical IoT devices, one needs to set business objectives and appropriate target threshold levels. Relevant analytics results and insights can be used to targeted continuous service improvements.
The readiness and willingness for continuous improvement within the organization is essential to achieve improved customer experience.
Machine learning for deeper insights
Machine Learning is used get deep insights and automatically highlighting what and where network optimizations should be carried out or which subscribers require immediate attention minimizing or preventing churn. For IoT devices it means to take actions before breaching SLAs to avoid critical incidents.
We offer a close loop solution to visualize the results of your actions in order to see true improvements down to every single subscriber or IoT device.
Dashboards for transparent monitoring
Customer complains about poor service and network experience can be validated with a mouse click in the Customer Care module. It offers further drill down possibilities to troubleshoot the issue pathing a way for solving the issue using real data insights instead of assuming and guessing.
Our solution is also providing insights for marketing department to take actions such as creating targeted and meaningful campaigns.
Subscriber experience analytics (SEA) module

Continuous improvement process

Machine learning for deeper insights

5G analytics: Overview of available dashboards

Usage dashboard: Monitoring user behaviour
Customer Experience

Deep understanding of Customer Experience Management and which KPIs are driving user experience

Expert in 5G and VoLTE

Experience in the telco domain and services such as 5G and VoLTE

Working experience

True actionable insights of Subscriber Experience or IoT device performance

Deep insights

Automated summary of insights with recommended actions using Machine Learning

Flexible & open data model

Open Database and data model for ad-hoc queries, custom KPIs and custom analytics on the fly or further script/API access and processing

Variability

Flexibility – ability to work with different network probe vendors
Subscriber analytics

Experience in implementing Subscriber analytics for new Service Introductions for pioneer Tier-1 operators

Analytics solution for mobile operators

Implementation of CEM, MBB and VoLTE and 5G Analytics solution for mobile operators

Network probes

Hands-on experience with multiple network probe vendors

Machine learning

Experience in using machine learning algorithms on Subscriber data from core and radio network

Relevant technologies

Understanding of the relevant technologies and its applicability to problem solutions, beyond the hype

20+ years in the Telco industry

Over 20 years experience in the Telco domain, fixed and mobile including VoIP protocols like SIP and RTP